Budster's 2005 NATCC Experience




Click on pictures to see a full size view


7/9/05 Bill Moody pases the Baton to Jerry Galang in Deary Idaho


7/11/05 Budster passes the Baton to XNORP (George Chambers) in Spokane Washington

7/17/05 I joined the caravan in La Grande Oregon.

7/18-19/05 we toured Artic Fox and EagleCap who did a BBQ for us.

7/20/05 we toured Alpenlite in Yakima Washington and camped in their parking lot with full hookups, but it was HOT

7/21/05 Drove to Leavenworth and camped at the 6 mile Forestry Group campsite

7/22/05 Drove through our first rain to Winthrop where we camped at the Pine-Near RV park, we were met by Black-Sheep-1

7/23/05 Crossed over the Cascades to Goodall Campground where Tate joined the group

7/24/05 Crossed into Canada (no one had problems), stopped at Beddows house to pick up 2 cars, then proceeded to Fort Langlet campground

7/25-26-27/05 Toured around Vancouver, saw the International Fireworks competition.

7/28-29-30-31/05 Toured Adventurer then camped at Lone Duck group site in Manning Park. Gary (Oregon_Trail) was the only 'real fisherman' in the group, he landed 3 rainbow trout.


8/1-2/05 Light rain this morning as we headed to Penticon and Chute Lake. The road to Chute was dirt, bumpy, switchbacks and steep (going up) for 9km, we all made it OK. Bob Mehrer (President of Snowriver) came up and shared a few beers with us. Jack & Rob from TorkLift joied the party and gave away some nice goodies (Thanks TorkLift) What a beautiful place in the mountains this is.

8/3/05 Drove down from Chute lake (my new 'Fastguns' held the camper in place) to visit the Snowriver/Snowbird plant. Good tour, nice product, then they had a BBQ for us.


8/4/05 Drove down the road to Okanagan RV Park in Westbank. This has to be one of the worst campgrounds we have ever been to. It was a gravel parking lot with a card key fuel station right next door that had business all day and all night (lights at night too), and did I mention over priced, and did I mention that we did not get receipt (I guess the money collcted that night will NOT be reported as income) plus they charged for showers...........

8/5/05 Toured NorthernLite today, then headed down the road to Fintry Group Campground on the other side of Okanagan Lake north of Kelowna. It is pretty hot here in the Okanagan Valley.

8/6-7-8/05 Kicking back, enjoying the new freindships we made.

8/9/05 Toured the Bigfoot factory (smelled like fiberglass), nice clean factory. We headed to Goldpanner RV for the night.

8/10-11/05 Headed to Crawford Bay on Kootenay Lake

had to ride a FREE ferry to get there


8/12/05 Took possesion of the Baton and headed south back to the US. Had to 'give up' two frozen meals at the border as they contaied meat (guess someone wanted a free dinner that night).

BlackSheep1
drove with me to XNORP's house in Ione Washington where we spent a couple nights.
Thanks George & VI for the great freindship and hospitality


the following pictures are in no particular order:


Budster (Jerry) & Oregon_Trail (Gary) solving the problems of the world


Gary & Paul celebrating Alice's Birthday!


Jim & Sandy & Cody with their Lance, but they now have a Snowriver (must be that visit with Bob)


Rich & Sylvia with their EagleCap


Gary & Alice with their Artic Fox


Mike, Theresa & Colby with their Kodiak


Paul & Terry & Thomas


Relaxing by a river


The baton at table


The baton at table


Camping


Camping in Kookenee


Camping in Lone Pine on the way home

This was a great experience, not only to see how the different manufacturers make a TC, but the making of new friends. TC owners are really great people, willing to help, willing to share. I can't say I've met a better bunch of folks! Thanks to all who participated on this trip, it was a pleasure meeting and travelling with you!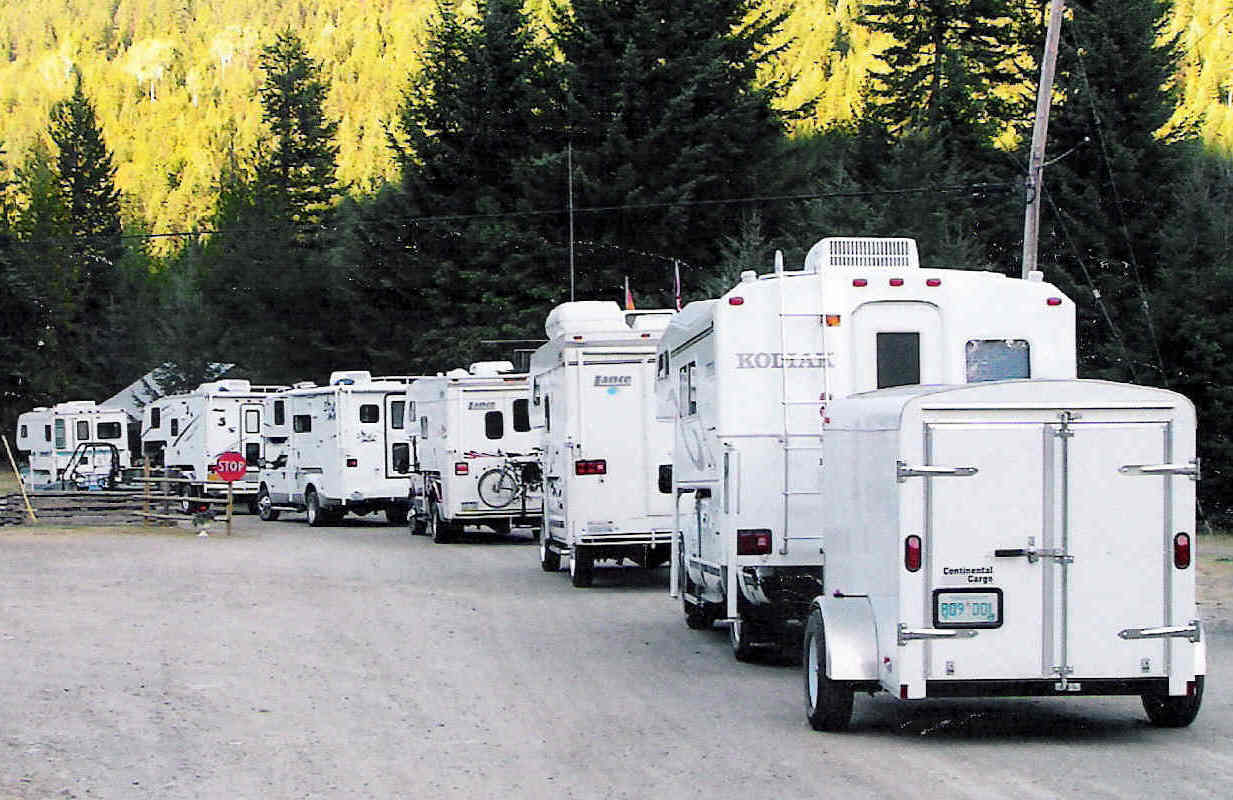 Kodiak took this one (I really like it)

Slideshow of my pics


---
Main Page | Corvette Page | Harley Page | Mark II | Merriment | Formulas for Cooks | Chili | Jocularity | Memoirs | Lineage | Filipino | Links | Valley Fever |
---
updated 04/10/06