My latest camper is a 2000 Lazy Daze 30' Island Bed model. I bought it in Houston Texas and drove it home for my first big trip. I've always wanted a motor home with a bed that you don't have to climb into, and this fit the bill. I switched from a truck camper because I took a couple of falls while getting down from the overhead bed. Luckily I wasn't hurt either time but that made me go searching for something that had a bed without the climbing. Since I purchased it in March of 2007 I have put 11,000 miles on it.
---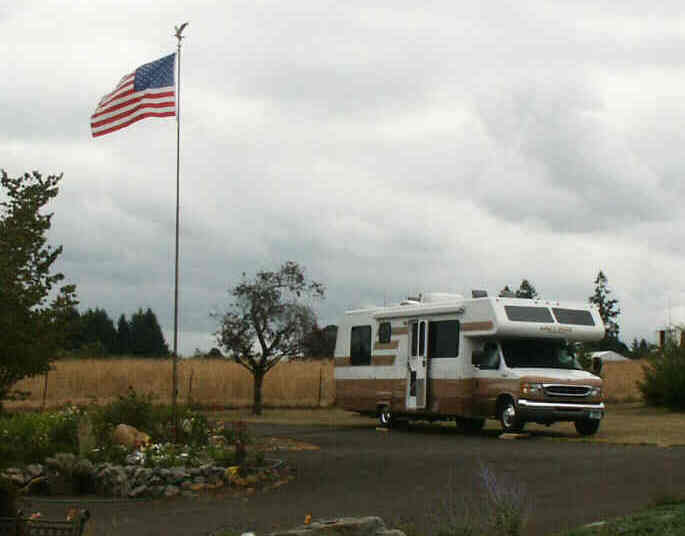 This Picture was taken at a friends house in Oregon
---
I went to Nevada, Nebraska, Wyoming, Idaho,, Washington State, Oregon, Albuquerque New Mexico to attend the Balloon Fiesta (met up with 19 other Lazy Daze folks) , then on to Colorado. I spent a lot of time visiting with friends in all those states, what fun was that!
Lazy Daze motor homes are sold factory direct. Lazy Daze Homepage They have no dealers. If you want to buy one you must go to the factory located in Montclair California. They do not stock any MHs except for the models on the floor which will be sold when the next years models are ready. So you go there, pick the model you want, add any options (they don't offer many as an LD comes with everything you need to go camping), put a down payment and then you are given a date when it will be ready for pickup. It usually takes 3 - 4 months.
I found my previously owned model on a yahoo group site Life With A Lazy Daze RV where in the file section there is a listing of folks selling. There is also a file for those looking for a particular model. This site is very active as it seems that Lazy Daze owners stick together and help each other out. I've asked many questions there and was amazed at the number of quick response I got.
---
---
updated 03/04/08