What goes on in Budster's life
I'm happily married to Joanie, my son Cameron and Jenny have blessed me with two grand daughters Kaylynn and Corynn but now they are divorced .. Joanie has two daughters, Anne and Michelle, Anne is married to Dain and they blessed Joanie with a grand son Nicholas and now little Katy, and Abby was born on Labor Day. Michelle is out on her own now. If we had known how much fun grand kids were, we would have had them first! *lol*.

Did you know that Budster is an Aries?


---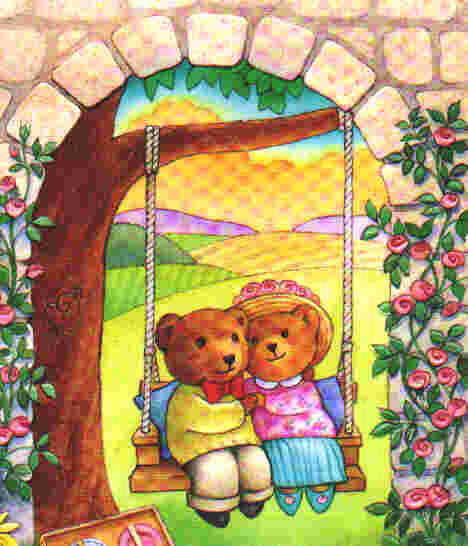 Poems for Joanie

Take this kiss upon the brow!
And, in parting from you now,
Thus much let me avow-
You are not wrong, who deem
That my days have been a dream;
Yet, if Hope has flown away
In a night, or in a day,
In a vision, or in none,
Is it, therefore, the less gone?
All that we see or seem
Is but a dream within a dream.

I stand amid the roar
Of a surf-tormented shore,
And I hold within my hand
Grains of golden sand-
How few! yet how they creep
Through my fingers to the deep,
While I weep- while I weep!
O God! can I not grasp
Them with a tighter clasp?
O God! can I not save
One from the pitiless wave?
Is all that we see or seem
But a dream within a dream?

.....A Dream within a Dream by Edgar Allen Poe
~.~.~.~.~.~.~.~.~.~.~.~.~.~.~.~.~.~.~.~.~.~.~.~.~.~.~.~

One day I wrote her name upon the strand,
But came the waves and washed it away:
Again I wrote it with a second hand,
But came the tide, and made my pains his prey.
Vain man, said she, that dost in vain assay
A mortal thing so to immortalize!
For I myself shall like to this decay,
And eek my name be wiped out likewise.
Not so (quoth I), let baser things devise
To die in dust, but you shall live by fame:
My verse your virtues rare shall eternize,
And in the heavens write your glorious name;
Where, whenas death shall all the world subdue,
Our love shall live, and later life renew.

.....One day I wrote her name upon the strand by Edmund Spenser
~.~.~.~.~.~.~.~.~.~.~.~.~.~.~.~.~.~.~.~.~.~.~.~.~.~.~.~

Hail, beauteous stranger of the grove!
...Thou messenger of Spring!
Now Heaven repairs thy rural seat,
...And woods thy welcome ring.

What time the daisy decks the green,
...Thy certain voice we hear:
Hast thou a star to guide thy path,
...Or mark the rolling year?

Delightful visitant! with thee
...I hail the time of flowers,
And hear the sound of music sweet
...From birds among the bowers. . .

. . .Sweet bird! thy bower is ever green,
...Thy sky is ever clear;
Thou hast no sorrow in thy song,
...No Winter in thy year!

O could I fly, I'd fly with thee!
...We'd make, with joyful wing,
Our annual visit o'er the globe,
...Companions of the Spring.

.....To the Cuckoo by Michael Bruce (1749-1767)
~.~.~.~.~.~.~.~.~.~.~.~.~.~.~.~.~.~.~.~.~.~.~.~.~.~.~.~

Awake, my Heart to be loved

Awake, my heart, to be loved, awake, awake;
The darkness silvers away, the morn doth break,
It leaps in the sky: unrisen lustres slake
The o'ertaken moon. Awake, O heart, awake!

She too that loveth awaketh and hopes for thee;
Her eyes already have sped the shades that flee,
Already they watch the path thy feet shall take:
Awake, O heart, to be loved, awake, awake!

by Robert Bridges (1844-1930)

~.~.~.~.~.~.~.~.~.~.~.~.~.~.~.~.~.~.~.~.~.~.~.~.~.~.~.~

Love

love is an emotion that flows like an ocean.
love is a flower that blooms in may
love is a smile that brightens your day
love is a song mellow and sweet.

love is having food on your plate to eat
love is a tear drop that flows down your cheek.
love is overwhelming in time of defeat
because love is sent form heaven above
thank god for the one you love.

Copyright © 1996 Aubrey L. Hunter. All rights reserved.


~.~.~.~.~.~.~.~.~.~.~.~.~.~.~.~.~.~.~.~.~.~.~.~.~.~.~.~



Ode to Soun


How can I tell you
about this love I feel
How can I show you
that my love is truly real
My love is like a mountain
that reaches to the sky
It's lofty heights a mystery
that causes men to wonder why
My love is like a flower
delicate and fair
It's beauty something marvelous
to which nothing can compare
My love is like a river
rushing endless to the sea
Beginning as a drop of rain
it becomes more than you and me
My love is like a mighty tree
its roots into the earth so deep
Though wind and storms might shake it,
its grandeur will surely keep.
You my love are the one I seek
no other can compare
I pray each day to God above
that you my love will share

Copyright © Feburary, 1998, Br. David Wendel Robinson. All rights reserved


~.~.~.~.~.~.~.~.~.~.~.~.~.~.~.~.~.~.~.~.~.~.~.~.~.~.~.~

It Happened Overnight

Our love happened so very fast
These years later I know it would last
Your beauty, wisdom, and wit come thru,
Every time my eyes get a glimpse of you

You read me, and treat me like gold
Feelings like that will never grow old
I wake to your smile and I get thrills
Just your smile it gives me chills

Your love is the ocean where I want to be
Nothing at all means as much too me
I savor the days that I make you smile
They are the ones I keep all the while

My only hope is that your love won't end
Your not only my wife, you're my best friend
You understand me in bad times too
Just one more thing I love about you.

I'll be here today, and be here tomorrow
With you by my side I won't feel any sorrow
So stay with me as we move thru life
Me as your husband, and you as my wife.

Copyright © 1999 Harry Hatt All rights reserved


~.~.~.~.~.~.~.~.~.~.~.~.~.~.~.~.~.~.~.~.~.~.~.~.~.~.~.~

Sonnet XL

TAKE all my loves, my love, yea, take them all
What hast thou then more than thou hadst before?
No love, my love, that thou mayst true love call;
All mine was thine before thou hadst this more.
Then, if for my love thou my love receivest,
I cannot blame thee for my love thou usest;
But yet be blam'd, if thou thyself deceivest
By wilful taste of what thyself refusest.
I do forgive thy robbery, gentle thief,
Although thou steal thee all my poverty;
And yet, love knows it is a greater grief
To bear love's wrong than hate's known injury.
Lascivious grace, in whom all ill well shows,
Kill me with spites; yet we must not be foes.

from: Shakespeare Bookshelf
---
Here's a list of how to say 'I love you' in various languages
Is your language missing? Let me know and I will add it.


---
Tragedy has struck our family,'Dreyfus' our Golden Retriever has passed. He developed a cancer called Hemangiosarcoma This is a very quick acting evasive type of cancer. We first noticed a tumor growing on his chest, took him to the vet, they did a biopsy and said it was a type of hematoma and scheduled Drefyus to get it drained. Well after two days the tumor had almost doubled in size, the vet did some exploratory surgery and discovered this cancer. It was so far advanced that they said removal was impossible. This cancer also spreads to other organs in the body and can cause internal bleeding. A week later we had Dreyfus put down as the tumor got so big it was impairing his breathing. German shepherds are reported to be more susceptible to this tumor than most dog breeds, and golden retrievers also seem to have a higher than normal incidence. I am adding this here as a warning to other dog lovers to have any lump checked asap. Here is a link to a page I found on the web with a similar story.



Dreyfus, I am dedicating this poem to you because I love you and will never forget you!

THE RAINBOW BRIDGE

Just this side of Heaven is a place called Rainbow Bridge.
When a pet dies who has been especially close to a person here on earth,
Then that pet goes to "Rainbow Bridge"

There are beautiful meadows and grassy hills there for all our special friends
so they can run and play together

There is always plenty of their favorite food to eat
Plenty of fresh spring water for them to drink
And every day is filled with sunshine so our little friends are warm and comfortable.

All the pets who had been ill or old are now restored to health and youth
Those that had been hurt or maimed are now whole and strong again
Just as we remembered them in our dreams of days gone by.

The pets we loved are happy and content except for one small thing
Each one misses someone very special who was left behind.

They all run and play together
but the day comes when one of them suddenly stops and looks off into the distant hills.

It will be as if he has heard a whistle or was given a signal of some kind.
His eyes are bright and intent. His body begins to quiver.

All at once he breaks away from the group, flying like a deer over the green grass.
His little legs carry him faster and faster.

You have been spotted, and when you and your special friend finally meet,
You hug and cling to him in joyous reunion, never to be parted again.

Happy kisses rain upon your face. Your hands once again caress his beloved head.
You look once more into the trusting eyes of your pet so long gone from your life.
But never gone from your heart.

Then with your beloved pet by your side,
you will cross the "Rainbow Bridge" together.
Your Sacred Circle is now complete again.

author unknown



---
Main Page | Corvettes | Mark II | Harleys | Merriment | Formulas for Cooks | Chili | Jocularity | Memoirs | Lineage | Filipino | Links | Awards | Accolades

---
updated 04/09/06